Fire Department Apparatus Inspection Checklist App & QR Tags
01/24/2022 — Slate Pages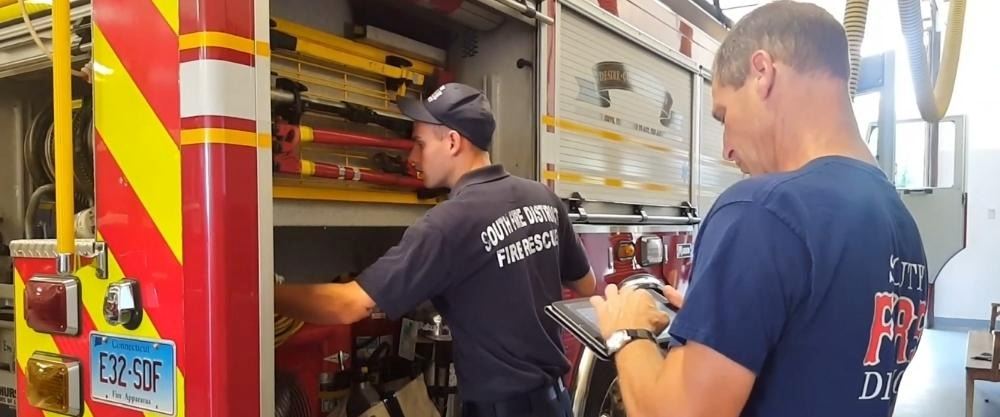 The National Fire Protection Association (NFPA) publishes more than 300 consensus codes and standards intended to minimize the possibility and effects of fire and other risks. NFPA codes and standards, administered by more than 250 Technical Committees comprising approximately 8,000 volunteers, are adopted and used throughout the world.
NFPA 1911
NFPA 1911 establishes the standard for the inspection, maintenance, testing, & retirement of in-service automotive fire apparatuses. Its scope includes:
Minimum requirements for establishing an inspection maintenance and testing an inspection, maintenance, and testing program for in-service fire apparatus.

Includes guidelines for fire apparatus Includes guidelines for fire apparatus refurbishment or retirement
-Identifies the systems & items on a fire apparatus that are to be inspected and maintained and maintained
Establishes frequency of inspections and maintenance

Gives the requirements and procedures for conducting performance tests on systems and components

Provides sample forms for collecting inspection and test data
Required Fire Apparatus Inspections
Fire apparatuses usually require daily inspections. General vehicle maintenance checks such as oil level, wiper fluid, tire pressure, etc. are the easier parts of inspections. Equipment inventory is the most difficult. Fire apparatuses are stuffed with necessary equipment needed to fight fires and save lives. The equipment inventory is scattered throughout the truck in special compartments, under seats, or within the cab. It is the firefighters' responsibility to make sure this equipment is on the truck and in satisfactory working condition.
How Do Fire Departments Conduct Inspections?
Most fire departments use paper or excel spreadsheet inventory checklists when inspecting apparatuses. Some are hand written with copies handed down from previous Chiefs. Keeping track of previous inspections proves to be a difficult task. Paper inspection require storage and are sometimes taking up much needed clerical space.
Many of you have probably also lived through the horror of an illegible inspection. There is nothing worse than spending the time to find the right cabinet, then the right folder and pulling out the inspection paper to realize you cannot understand the hand written comments or equipment repair request noted. More advanced departments use a tablet or iPad to perform cloud based spreadsheet inspections.
What Is The Slate Pages App & Slates QR Tags?
Slate Pages developed a NON-SUBSCRIPTION app that affords fire departments the ability to convert their paper custom inspections into a mobile inspection app. Slate Pages provides a QR code sticker or anodized aluminum tag that is installed, which links that apparatus to the Cloud.
How Do Slates Make Apparatus Inspections Faster?
Once the custom paper inspection is converted into a Slate Page "Record Inspection" template, fire department staff can use their department's or personal smart phones to conduct that inspection anytime. Once complete, the inspection record can be viewed by scanning the Slate's QR code with a smart phone or on the web portal from a desktop browser.
[ Our Case Study About How Bethany, CT Volunteer Fire Dept. Uses Slates For Apparatus Inspections)
What Information Can Slates Track?
Slate Pages provides 13 different field types to facilitate a custom inspection. Text fields, number fields, email and phone fields, blog and journal fields are just some of the fields allowed when designing your perfect custom apparatus inspection.
What About Custom Inspection Templates?
A number of our fire departments have entered their inspection templates into our shared public template library. It is usually a good place to get started. But as you know, all fire apparatuses are not created equal. They are all customized. Because of this, all inventory inspections must be customized. Giving fire departments the ability to customize their apparatus and rig inventory inspections has been a game changer for departments. Most inspection software in the Emergency Service Market does not allow customization without expensive engineering services.
How Do I Get Started With Slate Pages?
Getting started with Slate Pages is as easy as downloading our App from the App Store or Google Play store. to get started with Slate Pages today!